BIGGEST SALE EVER! 25% OFF + FREE SHIPPING!
FeetUp®
Experience
™
The Official Companion App
for the FeetUp Trainer

a complete toolkit for a safe practice
the world's largest resource for all things FeetUp
access to special content and events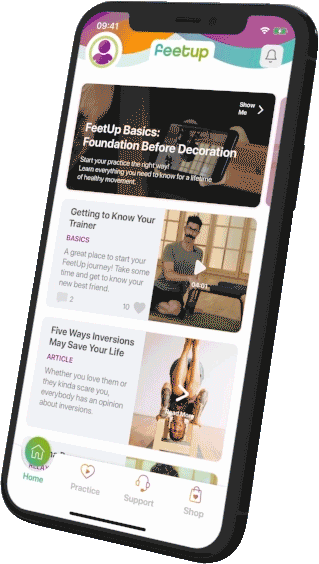 ANYTIME, ANYWHERE
Everything you need
to perfect your practice
Get the most out of your movement with the FeetUp Experience:
the only on-demand yoga and fitness app of its kind! No matter your movement background, we've put together a powerful resource for everyone and every body.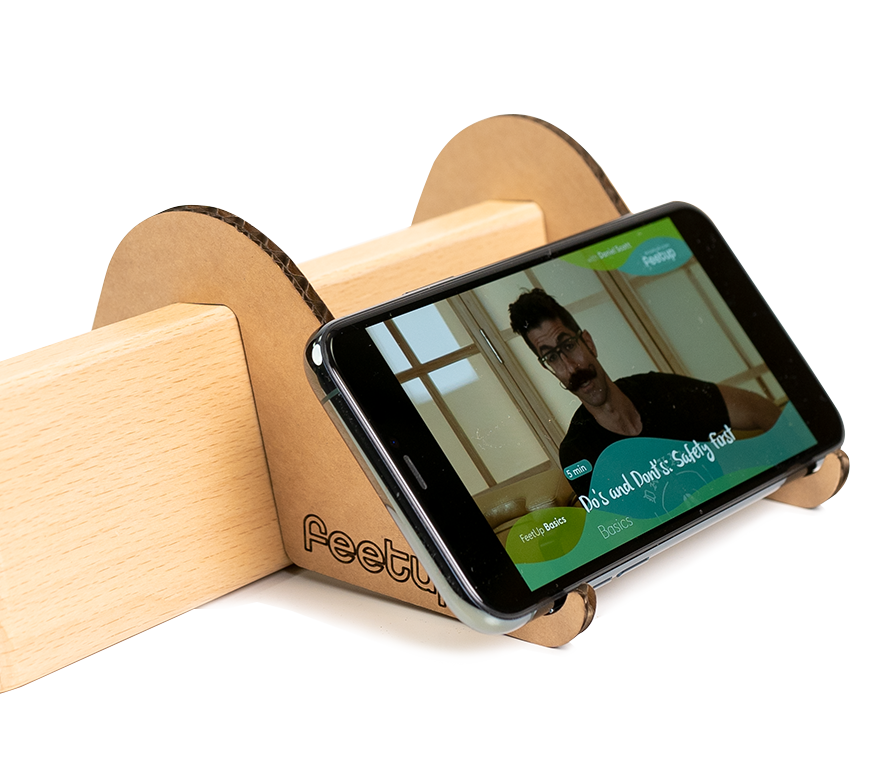 A SOLID FOUNDATION
Stay focused on your
FeetUp Journey
Access our comprehensive database of yoga, fitness and relaxation classes, tailored for every body
Experience world-class instruction from master level movement teachers.
Stay motivated with personalized notifications so you never miss a workout or new class again.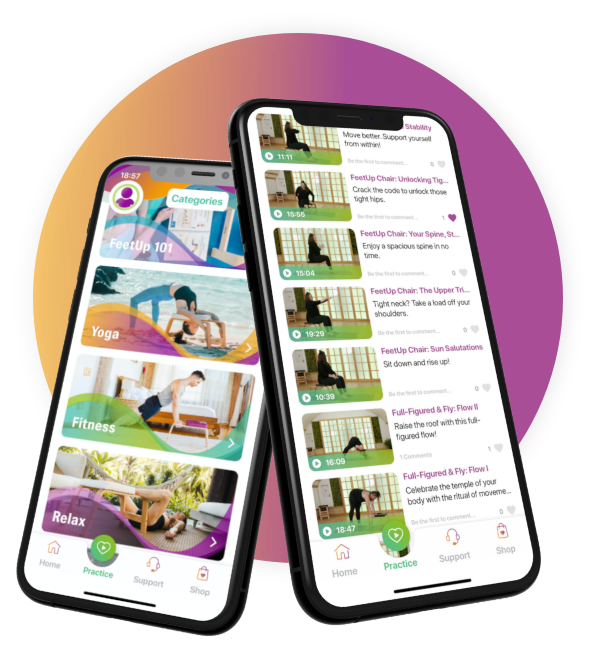 INVEST IN YOUR HEALTH
Movement is a necessary part of life. Nourish your body with unlimited inspiration and motivation, because a happy body is a healthy one.
ORGANIZED & FOCUSED
Search for the perfect class and save it to your very own greatest hits album! Share insights and ask questions to connect more deeply with your practice.
CHOOSE YOUR OWN ADVENTURE
from a constantly-updated library of class offerings that cover a wide variety of topics and experience levels.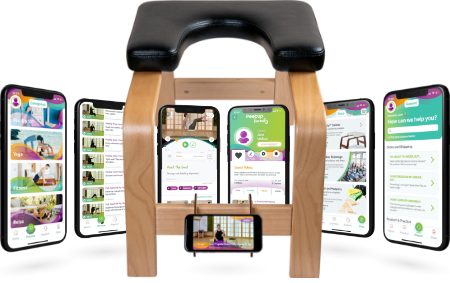 2 WEEKS OF PREMIUM MEMBERSHIP
INCLUDED WITH EVERY FEETUP® TRAINER
Jumpstart a fully supported practice with this incredible package deal!
We want everyone to begin their FeetUp journey with the proper tools and guidance.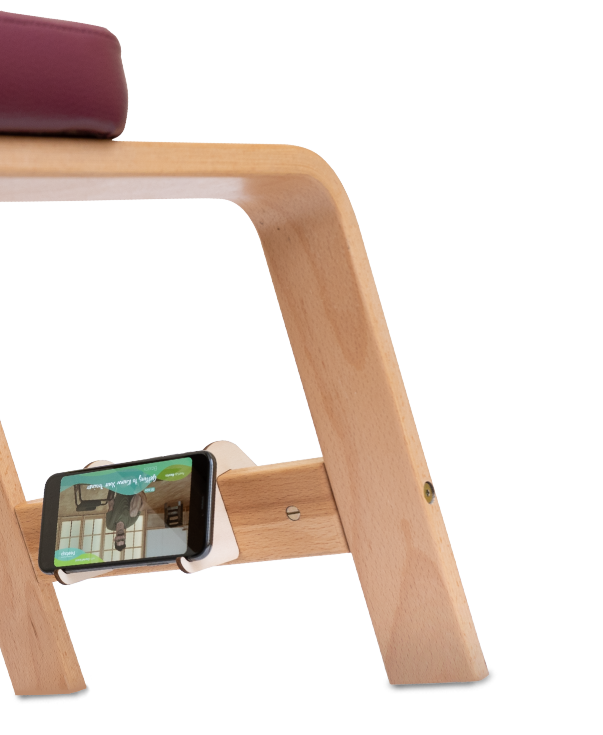 STAY CONNECTED WHILE YOU MOVE
Introducing FeetUp Coasters
This adjustable phone stand clips directly onto the Trainer so you can remain focused during practice...
no matter which direction you're facing.
ENGINEERED FOR COMFORT
Thanks to our unique and patented design, no longer will you have to awkwardly prop up the phone or turn your head to see the screen. You won't find these anywhere else!
Designed for Simplicity
Installs in seconds and allows for quick transitions during practice. Simply slide your phone along the Coaster from front to back before inverting and vice versa!
Proper Viewing Angles
Support a healthy neck position while watching videos whether you're facing forward or upside down.
Adjustable to Any Size
No matter the brand, your phone will be safely cradled by the sustainable elegance of laser-cut wood.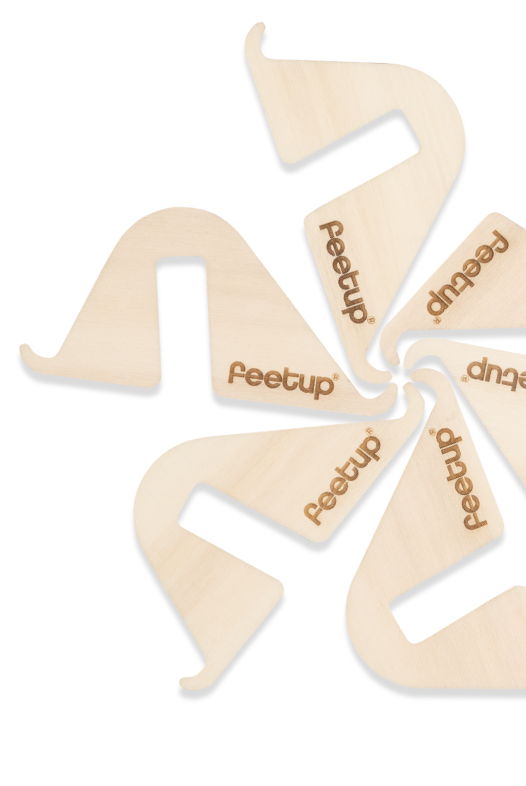 Get your FeetUp Coasters™
Uniquely designed to work only with the FeetUp Trainer.
Easy to install and adjust. Gently mount by pressing down onto the front crossbar. Remove by grabbing Coaster from the top and pulling straight up.
FeetUp Coasters are a FREE GIFT for a limited time and are not covered by our warranty or return policy.
Full product information >
Frequently Asked Questions
For full information on FeetUp® Experience™ and the Coasters™, please make sure to read the FAQ below:
There is no better teacher than experience! With access to the highest quality instructional content available in an organized and easy-to-navigate platform, you'll have all the tools necessary for creating an amazing FeetUp practice to meet your every need.
The FeetUp Experience has been designed specifically for use on a mobile device due to ease of use and portability.
At this time, the FeetUp Experience is only available for use on mobile devices.
Simply go wherever you normally download apps for your device and search for FeetUp! Have an iPhone? Use the App Store. Android user? Check out Google Play.
The app is both free to download and offers many complimentary services including access to customer service team, FeetUp's online shop and use of the customizable notification system!
In order to take advantage of the two week trial, you will be asked to enter a credit card and choose a subscription plan when signing up. Rest assured, you will only be charged if you choose not cancel your membership before the 14 day trial is over. Even if you decide to not keep a paid subscription, you should keep the app installed to make use of the exclusive free features!
Although the cost varies slightly from country to country, one month of subscription costs roughly the same as taking yourself out for a decent lunch (depending on where you eat, of course) or taking one yoga class at your local studio.
It all depends on how much you want to be notified! You can set up daily practice reminders through the FeetUp Experience accomodate your home practice schedule. Additionally, you can easily be notified every time a new class goes live or a special event is posted. We want you to have as much control over your FeetUp Experience as possible.
Although we do not offer a discounted monthly subscription rate for the FeetUp Experience, we do offer great pricing on longer term subscriptions so you can pay one price and dive deep into your practice! CHECK HERE to see if you qualify for a special discount on a FeetUp Trainer.
The FeetUp will be regularly updated with new content in two ways: There will be at least two new referesher classes added every week in addition to one dynamic program each month. A program is a series of classes that all share a similar theme and focus, and may include upwards of 10 videos or more (depending on the content).
The app is completely web-based! All you need is a wireless connection or data plan to stream whatever video you decide to watch.
In addition to being shaped like tiny little rollercoasters that take your phone for a ride, your FeetUp Coasters are a great way to keep your device at eye level so you can float more easily through your practice.
We are limiting the free offer to one set of Coasters per person to make sure there is enough for everyone to have a set!
Only the finest three-ply lazer-cut laminate wood on the planet, of course!
After November 1st, 2020, a new set of Coasters will cost $12. Until then, we are super excited to send a free set to anyone who wants one... as long as they pay for shipping 😉